Start Something for children in your community.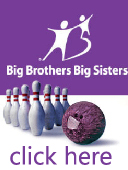 Back to the 80's, "A Totally Awesome" to start something for children in our community by becoming a Bowl for Kids Sake supporter. By supporting Big Brothers Big Sisters with your time or money you will help put children on the right track in life. You will provide them with caring mentors, supported by professional staff who provide support and guidance which is key to ensuring academic achievement and success in life. Big Brothers Big Sisters model of youth mentoring has been proven to help children overcome adversity and beat the odds. It doesn't matter if you are a great bowler or not. What matters is that you have fun with a group of your family and friends while supporting a great cause! Donate, register a team, or become a sponsor and help start something for a child today.
Bowl for Kids' Sake is the agency's largest fundraiser supporting children in need throughout our county!
Because of Bowl for Kids' Sake, more Bigs and Littles can be paired up, more friendships can be made and more children can be set on the right path.
Bowl for Kids' Sake is a fun and easy way to positively impact a child's life.
Just follow the simple steps below:
1) Start a team. Teams are formed with five or six members. Consider creating a team with family, friends, fraternity brothers, sorority sisters, or co-workers.
2) Start securing sponsorships. Each bowler is asked to secure
a minimum of $30.00. $50.00 to earn a Bowl for Kids' Sake T-shirt.
And for every $25.00 over $50.00 bowlers earn a chance to win on
of the many wonderful prizes offered.
• Create your own fundraising page to help you raise even
more money.
3) Start Bowling. After you have secured your sponsorships, it's time to have fun! You'll receive two free games of bowling (shoes and ball rental included!) You will also have the opportunity to win one of the many door prizes which are given away about every 10 minutes. Your team will also receive a souvenir team photo.
The best part? All of the event expenses are completely underwritten by our corporate sponsors. That means 100% of the money raised by bowlers goes directly toward supporting children served by Big Brothers Big Sisters right here in Fairfield County. Funding is necessary to recruit, screen, and train volunteers and to provide on-going professional support, which is key to ensuring long-term relationships that have the power to change lives and transform futures.
On your mark, get set, go! Join us in this important effort to help create brighter futures for our children.